Afbeelding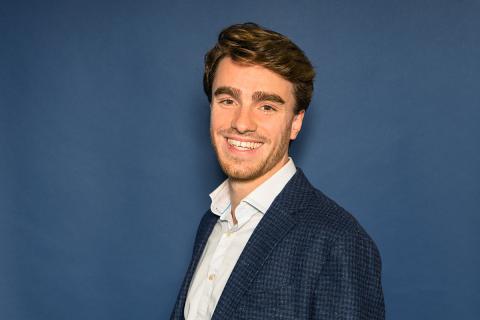 This time In the Spotlight: colleague Martijn de Rond. What is the best place for new logistic centres in the near future? And how do we organize this as efficiently as possible? Questions Martijn likes to get stuck into.
Klik hier om de Nederlandse versie te lezen
Who are you?
On April 1, 2020 I graduated from Wageningen University, specializing in Operations Research and Logistics. I became acquainted with Districon during my graduation project. Together with two consultants from Districon, we conducted a network study for a client. Our goal was to produce a forecast model for the next 5 to 10 years. This provided insight into the optimum locations for linkage points in their logistics chain. Based on my interest in smarter organization of logistics chains, willing to work at Districon was quickly decided.
From April 2020, for half a year, I assisted customers with the use of the tools of BigMile. With these tools, companies calculate, analyse and improve their CO2 footprint in an easy way. Since the beginning of this year, I have been working on other projects for Districon Solutions. I really enjoy helping different companies to optimize their logistics on a project basis. Starting this with making predictive models. The following question is key in this for me: how can we do things smarter in the future?
Optimization studies
I have already had the opportunity to do this for various clients. For example, I did an optimization study for the e-commerce department of a supermarket chain. Based on expected volume and costs of location and transport, we created a decision model for the establishment of distribution centres and home shopping locations. This is used to determine which zip code area will be delivered by which location. In this assignment the combination of the more technical part and consultancy came nicely together. Finding out the real question and coming up with a solution for it.
I also calculated, on basis of forecasts, the best locations for repairs and storage for a rapidly growing company in bicycle transport. In the outskirts of a city or better in between cities? Through good collaboration of our team with our client we managed to find the best solution.
What does working at Districon mean to you?
At Districon, you work together with colleagues at different projects at the same time. This makes the job varied and challenging for me. You quickly get to know your colleagues and know who to turn to for information you need. At Districon we also organize a lot of workshops, get-togethers or team building activities. In the Districon Development Program, which you complete in your first year, you train skills to use in different client situations. These include conversation techniques, optimal collaboration and intervision.
Future vision
Companies pay a lot of attention to sustainability. How can you reduce emissions through logistical efficiency? Take for example e-commerce. Delivery vans dominate the street scene. We want more and more home deliveries, but no vans in the city. How do we solve this? Create a bundling point on the edge of the city? Cooperation of different parties is key to solving this problem. The more bundling together, the fewer emissions. Simulation models will help to show what this could bring in the future.
Next colleague in the spotlight?
I nominate Frank Wade for the next In the Spotlight. As Associate Consultant he advises our international clients in supply chain. I am curious to hear his vision on sustainability. Give it a go Frank!