Afbeelding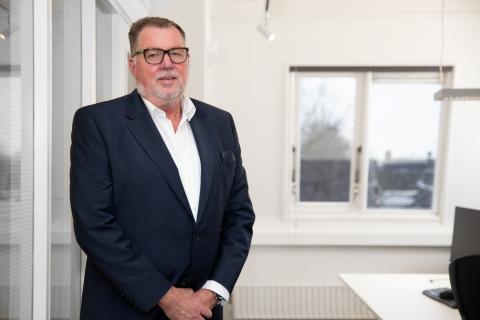 Over 40 years of experience in the field of change management and business relocation. Our Ed Slegtenhorst runs projects involving a change of or for people. As a true people manager, he has been working at Districon for more than 18 years and is, therefore, part of the firm core. In these years his experiences are great, he will tell you all about his experiences and vision for the future in this 'in the spotlight'.
Let me introduce myself
My name is Ed Slegtenhorst and I have been working as a senior project manager at Districon for 18 years now. As a project manager, I have a lot of experience with transition projects (company relocation). In addition to preparing and realizing these projects, I enjoy sharing my knowledge with colleagues or customers by means of giving trainings
My experiences
Before I started at Districon 18 years ago, I spent 13 years at ABBINK international (UTS), one of the largest moving companies in the Netherlands and specialized in relocation. I worked there for 10 years as a project manager within the operational service and the last 3 years as a Product / Sales manager. Based on those experiences, I have been able to carry out many large transition projects at Districon, ranging from large distribution centers to various complex projects in the scientific world. A.o. UVA (Sciencepark), UTwente/Mesa+ (Carre and Nanolab building), VU Amsterdam (gebouw Acta en O2).
Developments in logistics follow each other faster and faster. As a result of this, our customers have an increasing need for support in change management. This is also reflected in the projects that I have carried out in recent years. These projects often involve implementing new processes or process adjustments and reorganizing the operational teams. In this, people management plays an incredibly important role. This aspect is often underestimated causing it to be one of the main pitfalls in change management.
My vision for the future
Under current guidelines, I will reach the retirement age in six and a half years. This seems like a long time, but when I look back it goes by in no time. In the years to come I would obviously like to supervise a lot of great new projects, but besides that, I want to make time for coaching my younger colleagues and helping them to develop themselves in our field. At a company like Districon, it is important to safeguard the business experience so we can successfully apply the discipline of transition and change management to our customers in the future.
In addition, sustainability is playing an increasingly important role in our society. Naturally, Districon is also closely involved in these major sustainability challenges within logistics. This includes initiatives such as BigMile to visualize the CO2 emissions of the transport vehicles and thus controlling them in the future. Herewith, many logistics operations will have to undergo radical changes as well. I hope to play a role in these change processes and therewith contribute to a sustainable society.
Which colleague will be in the next spotlight?
I would like to nominate Niels Veenman for the next spotlight. Niels is a specialist in the field of Business Intelligence, and I am curious about his recent experiences.