Afbeelding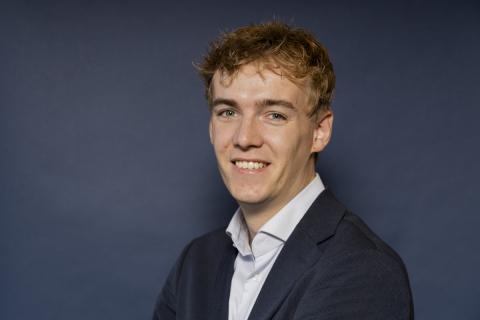 Who Are You?
My name is Jop Kremers, and I joined Districon in September '22. I completed my studies at the Eindhoven University of Technology, earning a bachelor's degree in industrial engineering and a master's degree in Innovation Management. During my studies, I got familiar with modeling and optimizing business processes using data analytics.
My master's thesis took place at Royal HaskoningDHV, where I did a study for one of their clients LambWeston / Meijer. What I enjoyed most in that project was to use data prediction and optimization models to give strategic advice to customers and to optimize processes in the supply chain. Via Royal HaskoningDHV I got in touch with Districon where I have the opportunity to further explore these interests across various projects.
Within Districon, I am consultant in the Network & Mobility team, specializing in transport optimization and network redesign projects. I mainly perform data analysis and dashboarding tasks to give insight for our customers and calculate the impact of alternative scenarios.
My Experiences:
One of the most compelling aspects of working at Districon is the diversity of projects, which exposes me to a multitude of companies and their unique processes. Besides the differences between projects, there are also similarities. The experience you gain from one project, you take with you into the next one.
Another aspect that I enjoy in projects is including the perspectives of different stakeholders and finding a solution that fits for everyone. For instance, earlier this year, we researched the impact of time windows on congestion in cities. In this project we had to interview distributors, municipalities, and retailers to understand their views on the matter. Though each party's view was different, they all wanted a solution for the challenge and were open to accommodating each other. This collaboration led to finding a better theoretical solution.
Engaging in many different projects and the responses to our work can be very rewarding. Hearing from clients that they have made strategic decisions based on your work and seeing them return with follow-up questions is a great form of appreciation.
Vision of the Future:
The logistics sector is continuously innovating and will always face challenges. In the coming years, I anticipate that hot topics will include sustainability, congestion in cities and scarcity of resources. New regulations and market conditions will push companies to explore alternative designs for their supply chains.
I look forward to participating in finding solutions for the challenges to come and contributing to more efficient and sustainable logistics. Over the next few years, my goal is to enhance my consulting skills and gain further experience in the field of logistics.
The Next Spotlight:
For the next 'In the Spotlight,' I'd like to nominate Alexis Graves. I'm curious to learn about her experiences in the United States.