Afbeelding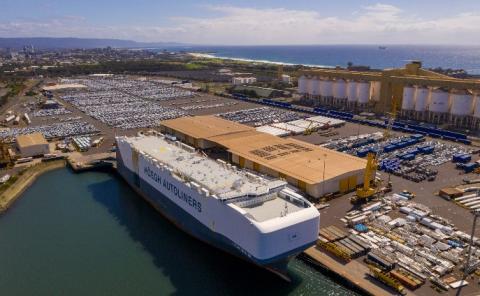 About
Höegh Autoliners is one of the leading global providers of deep-sea RoRo (roll-on/roll-off) transportation services, operating a fleet of around 40 Pure Car and Truck Carriers ("PCTC") sailing in global trade systems. The company offers safe and secure deep-sea transportation of cargo such as cars, high and heavy machinery and breakbulk. Its customers include most of the leading global vehicle and equipment manufacturers. 
Problem 
Höegh Autoliners has approximately 375 people, working out of 16 offices around the globe. In addition, around 1,250 seafarers are employed through the company's crewing offices in the Philippines and China. 
Across the global organization, sales representatives, trade managers and planners provide input to create a forecast that determines the company's business plan for a 15-month horizon. Team members were using Excel and needed to manually update their forecast. They were looking for a solution that would help them: 
Standardize the forecasting process. Höegh Autoliners was looking to work with one platform that would facilitate collaboration using the same data and ensure knowledge transfer (smooth hand-overs) between employees. 
Focus resources where they are needed most. With a more streamlined forecasting process, sales representatives can focus on customer service and building customer relations instead of tedious data entry in Excel. 
Optimize the allocation of their fleet in the long-term horizon. They wanted a platform that could consolidate everything automatically, instead of using multiple Excel files. 
Solution 
Districon, an AIMMS implementation partner, developed a demand planning application in AIMMS which allows Höegh Autoliners' team to easily calculate and maintain their forecast figures. The new solution enables them to update the forecast as day-to-day changes come up. The forecast is then automatically imported into an AIMMS-based Integrated Business Planning tool, which allows the company to optimize the capacity and allocation of their vessels. A large group of stakeholders uses the output of the solution for planning and budgeting purposes, including corporate executives. 
"With the integrated business planning tool, we will be better positioned to make tactical and strategic decisions concerning our fleet" – Geir Inge Asskildt Head of Global Trade Network – Trade and Capacity

Results 
The AIMMS-based demand planning application allows improved collaboration across Höegh Autoliners' global offices. Preliminary tests of the auto-generated forecast have also provided valuable input for discussions to match and steer capacity depending on expected volumes.